Company News
Launching our new technical documentation platform
October 27, 2022
We are happy to announce the redesign of our online documentation platform, Caldera HelpDesk! Starting October 27, 2022, all our users and partners will be able to access the new version of HelpDesk and benefit from all the improvements.
Need help with your Caldera software?
First launched in 2018, HelpDesk is Caldera's customer support portal and online documentation center. HelpDesk gives our users and partners access to a wide range of technical resources to help with their Caldera solutions: tutorials, videos, technotes, troubleshooting articles and FAQs. Whether you need help with CalderaRIP, PrimeCenter, your print & cut drivers, spectrophotometer or any software module, HelpDesk is the website to visit to look for helpful documentation. The content is regularly updated and improved to ensure the best possible experience.
Users also have the possibility to contact Caldera's technical support team if they have issues with their software. Make sure you are logged in to view all the content and access all the features of Caldera HelpDesk.
A brand-new look
Over the past year, we have collected feedback from our users and partners in order to deliver a version that is easier to use.
The website theme has been entirely revamped for better clarity. Benefit from improved navigation with tables of content to easily find all the information you are looking for.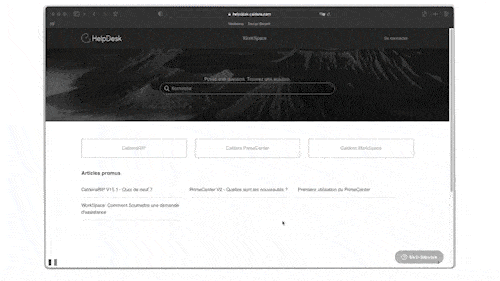 How to access Caldera HelpDesk?
There are several ways to access Caldera HelpDesk:
Go to helpdesk.caldera.com and login to access all the content
Click on the Help Center button on WorkSpace's top menu
Or the "Direct Access" tab in CalderaDock if you need help during your daily operations