The Support & Maintenance solution
Keep your production up & running at all times
CalderaCare is a set of additional, exclusive features including all major upgrades, premium training content and priority access to our technical support. An annual subscription to CalderaCare ensures your CalderaRIP software is kept up-to-date with the latest version and enhancements.
More than a support solution
Besides premium technical support, CalderaCare includes a range of benefits to help you make the most of your production.
Guaranteed support response times
When you register a support request, the priority & response times are guaranteed within 2h for a critical issue, 4h for a major issue, and 8h for a minor issue*.
All the latest versions & updates
CalderaCare includes all CalderaRIP upgrades (major & minor) and grants you access to exclusive features to expand print & cut possibilities.
Unlimited access to online trainings
Our online training sessions are the best way to get fast and effective training on CalderaRIP modules. Click here to see our online training courses.
| | Without CalderaCare | With CalderaCare |
| --- | --- | --- |
| WorkSpace customer portal | ✓ | ✓ |
| Online trainings | Pre-payment required | Free, unlimited access |
| Priority support with guaranteed response times | X | ✓ |
| Remote control | X | ✓ |
| CalderaRIP major upgrades | X | ✓ |
| CalderaRIP exclusive features | X | ✓ |
| "Large" Driver swaps | Not available | ✓ |
| "Grand" Driver swaps | Not available | Available at a reduced fee |
*Large and Grand are driver categories that we use to classify large-format printing & cutting peripherals. Refer to our Supported devices page for more information.
CalderaCare support response times
CalderaCare is the guarantee of timely intervention by our team of technical experts, with response guidelines in place from the moment you create a support request on HelpDesk. You will be given the option to register your request as either critical, major or minor.
CRITICAL
Response within 2h
When production is blocked and there's no existing solution or workaround to your knowledge.
MAJOR
Response within 4h
When production is still possible but not as efficient as usual, and while a solution exists, it's not obvious to find or apply.
MINOR
Response within 8h
When your production is not significantly impacted, but your issue still requires a technician.
Benefit from exclusive features
Your CalderaCare subscription unlocks additional features in CalderaRIP software.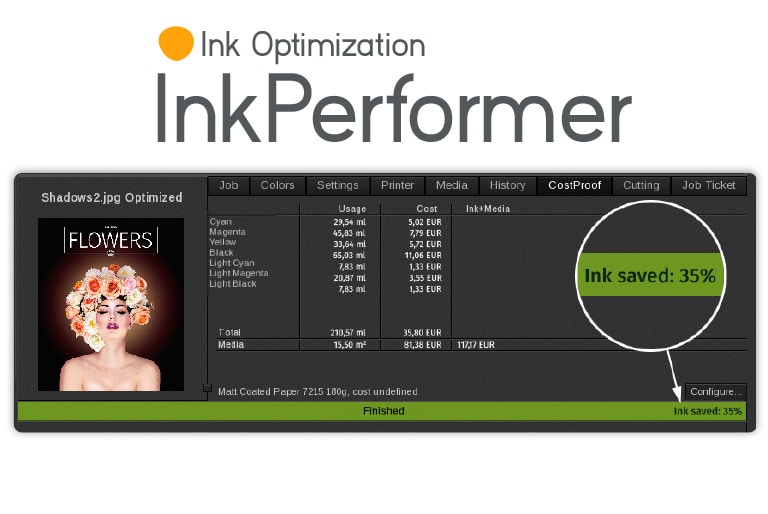 InkPerformer
Reduce ink consumption by up to 35%
No need to redo your ICC profiles to save on ink— once enabled, InkPerformer automatically recalculates a new color combination to reduce ink consumption, improve grey neutrality and reduce production costs. Click here to calculate your return on investment with InkPerformer.
CalderaCare subscriptions include 1 license of InkPerformer for one printer.
Caldera REST API
Connect CalderaRIP with third-party tools to streamline your workflow
The Caldera REST API facilitates the integration of CalderaRIP with third-party applications.
Connecting your RIP to your web shop or ERP software enables a more efficient workflow, and paves the way for automatic job submission, job spooling and job cost tracking.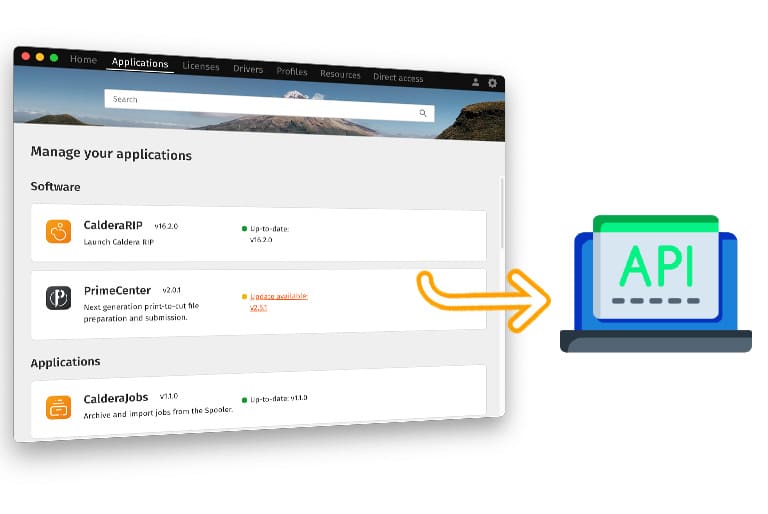 Smart Import
Automate job submission to save time & avoid errors
SmartImport automatically extracts the metadata from the filename, such as the targeted printer, presets, number of copies to print, height, width and scale.
SmartImport unlocks the possibility to automate job submission in CalderaRIP to save time while avoiding errors and reprints.
Print Proof
Improve your customer validation workflow
Once your job is ready to produce, export a TIFF proof after ripping and send it to your customer.
This proof is a preview of the job, and it can be used for validation before production in order to avoid unwanted waste and reprints.
Access all our online trainings
Our webinars are the perfect alternative to get fast and effective training on CalderaRIP. New sessions are available every month, with the opportunity to ask your questions directly to our experts.
Subscribe to CalderaCare to get unlimited access to our online training catalog:
Fundamentals of CalderaRIP
Color management
Print & Cut workflow
Spot color management
Tiles management
Leave the support & maintenance to us
Contact us for a custom demo with our specialists.
CalderaCare is an annual subscription contract. CalderaCare subscriptions are automatically renewed every year. Cancellation requests must be addressed via a written notice to team-administration@caldera.com at least 30 days prior to the contract expiration date.