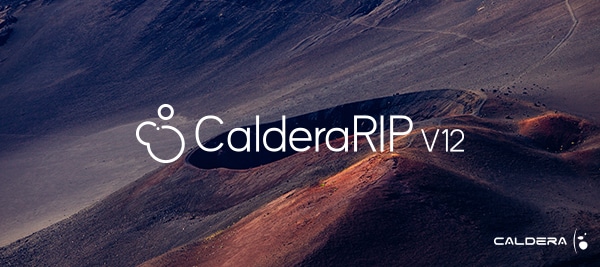 Press Releases
Releasing CalderaRIP Version 12
October 03, 2018
Caldera has announced the launch of a new version of its award-winning RIP software. Version 12 has been configured to offer an enhanced user experience by bridging the gap between design and business. The suite also includes Digital Licences and CalderaDock, new tools that allow users quick access to what they need. On the functionality front, faster processing speeds and better colors will enhance productivity, and there is an extended range of user applications.
"Caldera 12 is one of the first solutions to integrate PDF Print Engine 5," said Mark Lewiecki, Senior Product Manager, Adobe. "Caldera 12 customers will be ready for PDF 2.0 jobs, and will deliver efficient, state-of-the-art color reproduction that takes full advantage of their printers' capabilities."
This boundary-pushing print engine is the foundation for the next generation of PDF print workflows. It accurately renders PDF designs, providing reliable reproduction and full fidelity to the creator's intent. APPE 5.0 harnesses the widespread adoption of the PDF imaging model to accelerate throughput efficiency, reduce costs and increase profitability, while delivering high-impact color rendering based on modern, ICC-based color management. This allows for the leveraging of the full color capabilities of whatever printer the system is driving. It also offers transparency support and 16-bit smooth shades, resulting in flawless reproduction of even the complex designs.
Also included is CalderaDock – a new, highly intuitive, user-friendly application that can be launched from within the RIP to access Caldera websites, tools and applications. Once installed, it provides users with an easy way to migrate from Version 11, using the new Save and Restore App for Linux and Mac.
Another notable feature is Huge Image Pipeline. This increases global acceleration by 10 percent compared to Version 11.2, and is four times faster on multi-layers PSD and TIFF and seven times faster at processing huge raster input files. Additionally, Tex&Repeat can now process very detailed patterns for printing on jumbo rolls for wallpaper, the déco and textile markets. Digital Licences is a new flexible licensing system that, via the Caldera Workspace interface, gives access to new products and features faster and more easily. It allows users to digitally migrate licenses onto other sites and computer stations, speeding up production and dispensing with the use of dongles.
According to Sebastien Hanssens, Vice President Marketing & Communication, "Not only does the new Version 12 connect the design experience to business, but we are delivering greater productivity with faster processing speeds and more accurate color. The combined advances in this new suite accelerate throughput efficiency, reduce costs and increase profitability. As usual, we have put the user experience at the heart of the product, extending the range of functions and applications in line with what our customers are looking for out of their next generation RIP software."