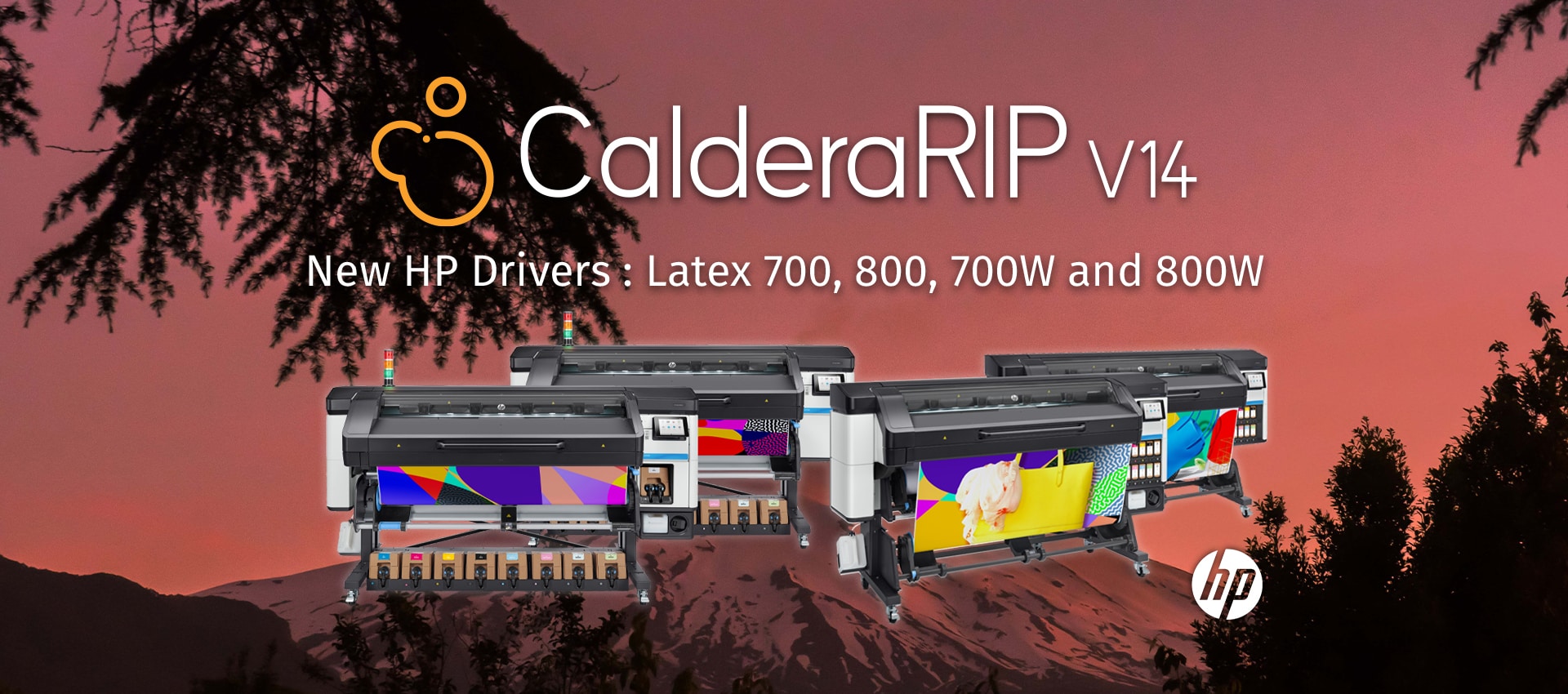 Press Releases
CalderaRIP & HP Latex 700/800— the Perfect Match
February 03, 2021
Print software company Caldera has announced the release of new HP Latex 700 and HP Latex 800 drivers for Caldera RIP Version 14. These new drivers add to the long list of peripherals supported by their award-winning solutions. Discover why CalderaRIP is the perfect ally to drive the HP Latex printers.
The newly launched HP Latex series is comprised of four models – the HP Latex 700, 700W, 800 and 800W, all of which can now be driven with CalderaRIP Version 14. These printers offer great versatility over a variety of applications, including textile, banners and signs, vehicle wrapping, soft signage and home decoration. CalderaRIP Version 14 is engineered to make them perform at their best, meet customer requirements and achieve a fast return on investment.
Both the HP Latex 700W and the HP Latex 800W are optimized for perfectly managing white ink, for superb results in a range of applications such as packaging, transparent vinyl, colored media, window printing and backlit printing.
Caldera is the key component in any wide format printing environment, giving users unparalleled control over the process from design to print. CalderaRIP is officially certified for use with HP Latex printers, as a fully scalable solution to suit a large number of digital printing applications and high-speed production environments. Its unique Client-Server architecture allows distribution of computational power over several workstations with just one software license. Additionally, CalderaRIP software can drive several Print & Cut peripherals at the same time to achieve high productivity.
Own your complete RIP solution and benefit from all the advanced features you need for your production:
Reduce media waste with our powerful nesting engine and Contour Nesting feature for smarter image placing (ideal for the production of stickers).
Textile pattern repetitions have never been easier with our Step&Repeat feature, ideal for wallpaper production.
Benefit from an outstanding ICC profiling engine, the X-Rite i1Prism Profiler, for unmatched color precision and color management. Match the colors requested by your customers and ensure smooth gradients at all times.
Ensure a reliable reproduction of your designs on any surface, thanks to the last version of the powerful Adobe PDF Print Engine embedded in CalderaRIP.
Add optional modules to your CalderaRIP software to get the most out of the sustainable, water-based HP Latex inks. Caldera's InkPerformer solution calculates the best combination of inks to reduce the overall quantity of ink used while maintaining the quality of your prints. Optimize your costs while making your production more sustainable!
Benefit from premium cutter support for the peripherals of our partners, Summa, Zünd, Fotoba and Matic with the GrandCut and Trimmer options.
Caldera is proud to be selected as one of very few RIP solutions recommended by one of the most recognized high-quality large format printer manufacturers. This selection offers confidence that CalderaRIP continues to exceed HP and customers' expectations.
About Caldera
Headquartered in Strasbourg, France, Caldera is a software company developing innovative solutions for the large-format digital printing industry. Since 1991, their award-winning programs help print service providers to improve their productivity, cost-efficiency and color output. Caldera solutions provide advanced color management, prepress and image processing tools for the graphics, signage and textile markets.
Press contact: Sebastien Hanssens, VP Marketing & Operations