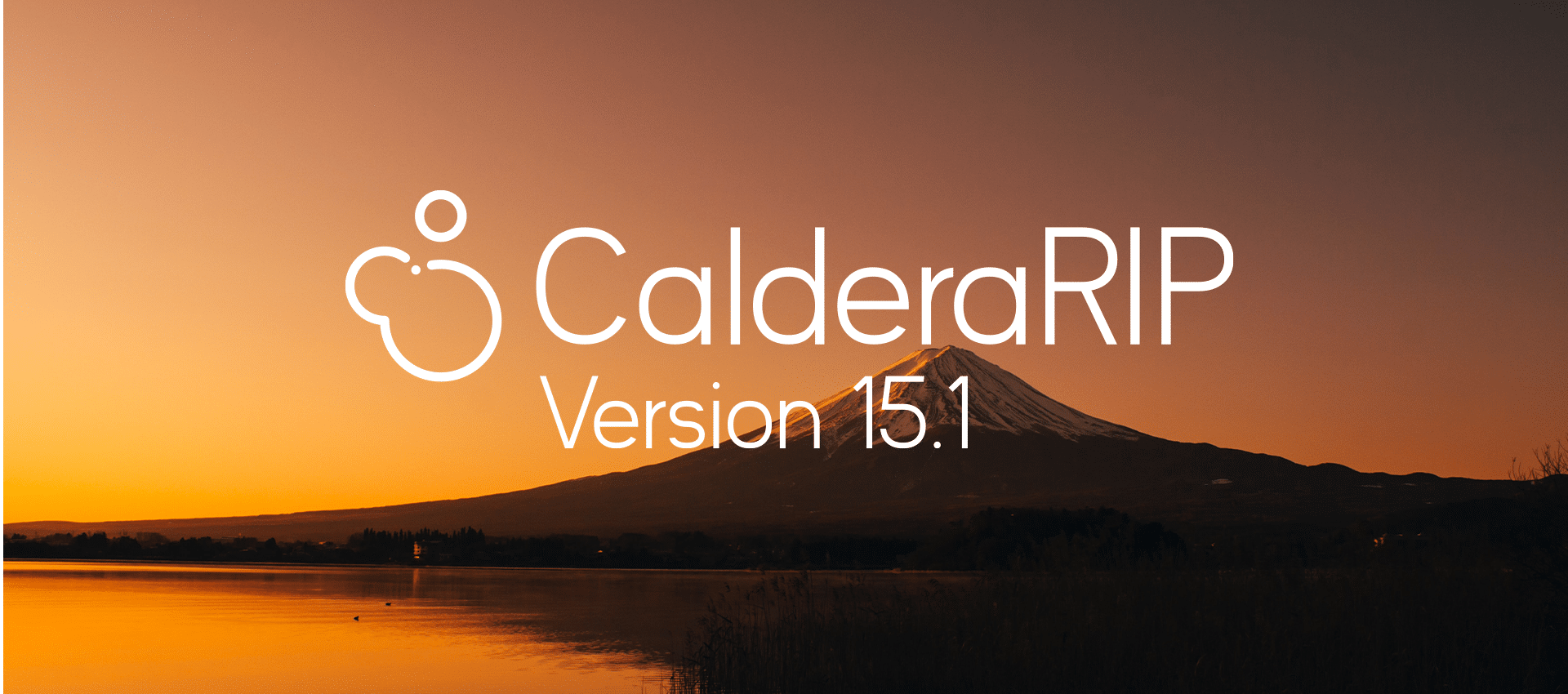 Press Releases
Caldera announces the release of Version 15.1
June 08, 2022
French software creator Caldera has announced the release of the latest update of its award-winning RIP program, CalderaRIP Version 15.1. Starting from June 8, 2022, users will be able to update their RIP to access a range of new features designed to increase performance, output quality and productivity.
Highlights of this new update include an improved nesting algorithm, CalderaJobs' compatibility with Windows, and four exclusive features for CalderaCare subscribers. In addition, this update supports the cutters of French manufacturer VERSO, and more than 42 new Print & Cut drivers have been added to the V15.1 ISO.
Along with Version 15.1, the company is also releasing version 1.14 of CalderaDock, the toolbox to manage the license and installation of all Caldera solutions. With this new version, users can login to their WorkSpace account directly from CalderaDock to access their information. Production administrators will also appreciate the increased flexibility, security, and control during the installation process.
According to Arnaud Fabre, Head of Product at Caldera, "Giving our customers the tools to optimize their production costs and grow their printshop remains one of our top priorities."
The new features and improvements included in Version 15.1 contribute to making it the most comprehensive, flexible, and powerful RIP solution on the market. CalderaJobs has been improved, making it the perfect tool for print operators whose role is to send ripped jobs to the printers, and for production managers who need to balance the workload or check the connectivity and statuses of the fleet. Users can drive and manage their fleet of printers from any of their workstations, including those running on Windows devices. For more flexibility, they can filter their RIP stations to focus on a subpart of the fleet. The nesting algorithm in Compose and Nest-O-Matik modules has also been improved to help operators reduce media waste.
Along with these enhancements to the RIP software, Version 15.1 comes with new exclusive features for CalderaCare subscribers, including the possibility to submit multi-page PDF files with different cut contours directly to CalderaRIP. Reducing the number of files to handle guarantees a more efficient workflow, with valuable time-savings and fewer manual errors. To speed up textile printing operations, the new "Use Printer S&R" option makes the ripping process faster when producing repeated patterns.
CalderaCare subscribers also benefit from two additional features to streamline their cutting operations. With Image Step&Repeat in VisualCut, CalderaRIP groups the shapes by images and builds optimized rows to streamline the cutting head path— which increases cutting speed and accuracy. In addition, both VisualCut & GrandCut come with a new option to streamline two-steps workflow such as sublimation and lamination requiring rolling and unrolling. In just one click, users can rotate jobs by 180° to save time and have their jobs ready for cutting right after printing, without additional manipulation.
Sébastien Hanssens, VP Marketing & Operations says, "Version 15.1 continues our 30-year long tradition of putting our customer's needs at the heart of our innovations. Each new update aims to push their business forward and help them face the new challenges of the digital printing industry."
About Caldera
Headquartered in Strasbourg, France, Caldera is a software company developing innovative solutions for the large-format digital printing industry. Since 1991, their award-winning programs help print service providers to improve their productivity, cost-efficiency and color output. Caldera solutions provide advanced color management, prepress and image processing tools for the graphics, signage and textile markets.
Press contact: Sebastien Hanssens, VP Marketing & Operations