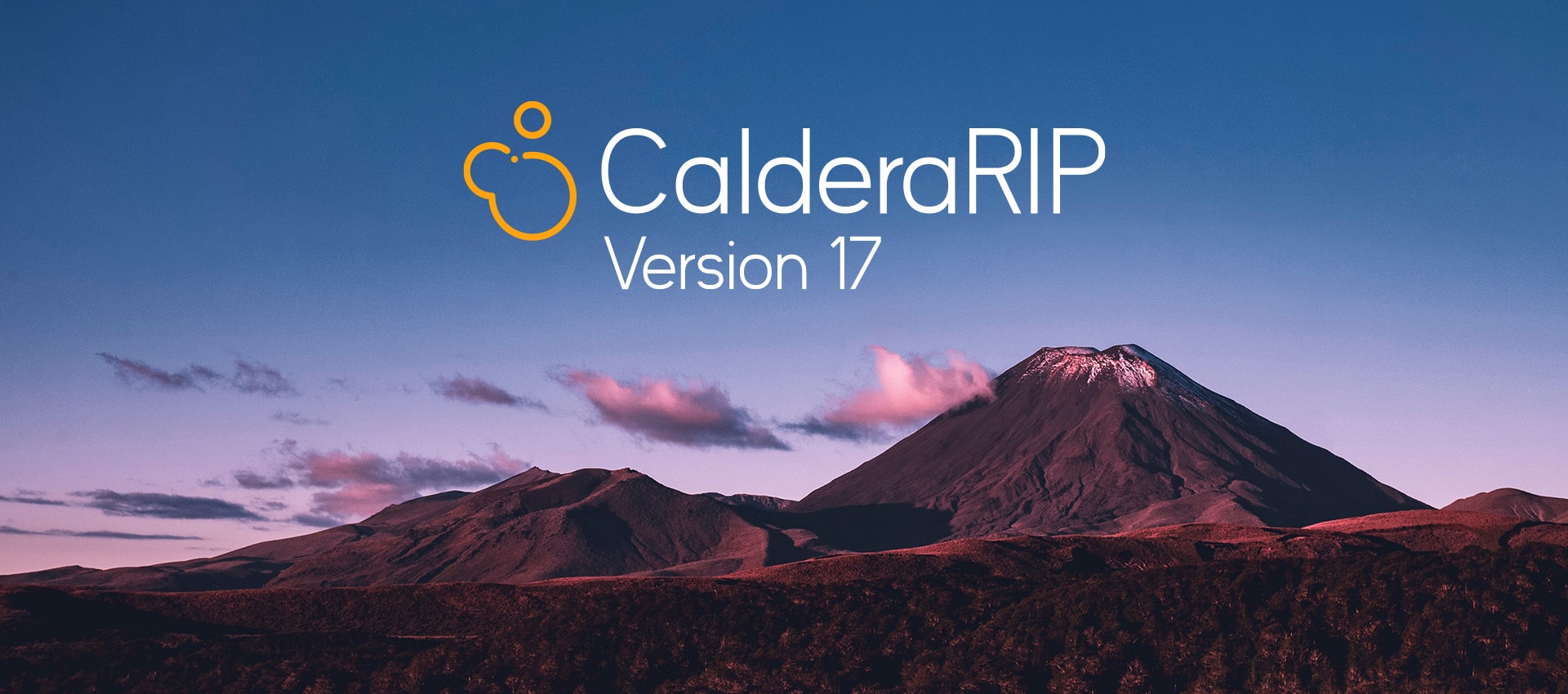 Press Releases
Caldera announces Version 17 of CalderaRIP
October 24, 2023
French software developer Caldera has announced the release of the latest version of CalderaRIP, its award-winning RIP program for large-format digital printing & cutting. Starting October 2023, users will be able to upgrade their RIP to Version 17 in order to experience the full range of new features and improvements.
Highlights of this new Version include the official support of macOS Sonoma, the integration of Adobe PDF Print Engine 6.2, more than 30 new drivers, and an extended range of new features to facilitate color management, printing and cutting tasks.
According to Arnaud Fabre, Head of Product at Caldera, "CalderaRIP remains at the forefront of PDF performance with the integration of the latest version of Adobe PDF Print Engine. This integration not only ensures compatibility with Adobe Creative Suite's evolution, but also guarantees precise rendering for all PDF files. As always, our users can rely on Caldera's stability and high performance to deliver perfect results, streamline their processes and meet the challenges of a rapidly changing industry."
Color is paramount in digital printing, and Version 17 brings an array of powerful color management features to help users deliver the best possible results. With this new version, users can share their spot color libraries, a highly requested feature that significantly expedites the setup of new workstations. Within EasyMedia, Caldera's color management module, users gain the ability to select the formula for measuring color distances, ensuring the utmost accuracy for a wide range of substrates. Moreover, they can enable the Auto- Smoothing option, effectively improving linearization curves and eliminating color measurement inaccuracies. In addition, Caldera continues to provide official access to spot color libraries, including Pantone, RAL and HKS, simplifying the process of achieving precise brand colors. With Version 17, all users can enjoy the latest additions of PANTONE Solid Coated V5 and Solid Uncoated V5 for an even more comprehensive color palette.
In Version 17, CalderaCare subscribers are in for a treat with an exclusive range of new features. Users with a CalderaCare subscription will now be granted one InkPerformer license for one printer, a resourceful solution that can reduce ink consumption by up to 35%, thereby significantly cutting down production costs and improving margins. Furthermore, Caldera introduces its own REST API, enabling seamless integration of CalderaRIP with third-party applications such as webshops or ERP software. The REST API paves the way for more efficient job submission and improved job cost-tracking. In addition, the bicubic resampling feature has been incorporated in CalderaRIP, allowing operators to rescale images without pixelation issues, resulting in sharper and more detailed output. The SmartImport & PrintProof features also remain exclusive to CalderaCare subscribers— and with Version 17, users can leverage the 'repeat_y' metadata within SmartImport to set the desired number of vertical pattern repetitions, opening the door for automated wallpaper production.
Samin Sarkar, General Manager at Caldera, says "Caldera continues to push the boundaries of digital printing technology, and this latest Version shows our commitment to innovation and customer satisfaction. With its array of new features and enhanced performance, users can expect enhanced efficiency, precision, and creative possibilities." 
About Caldera 
Headquartered in Strasbourg, France, Caldera is a software company developing innovative solutions for the large-format digital printing industry. Since 1991, their award-winning programs help print service providers to improve their productivity, cost-efficiency and color output. Caldera solutions provide advanced color management, prepress and image processing tools for the graphics, signage and textile markets.
Press contact: Sebastien Hanssens, VP Marketing & Operations