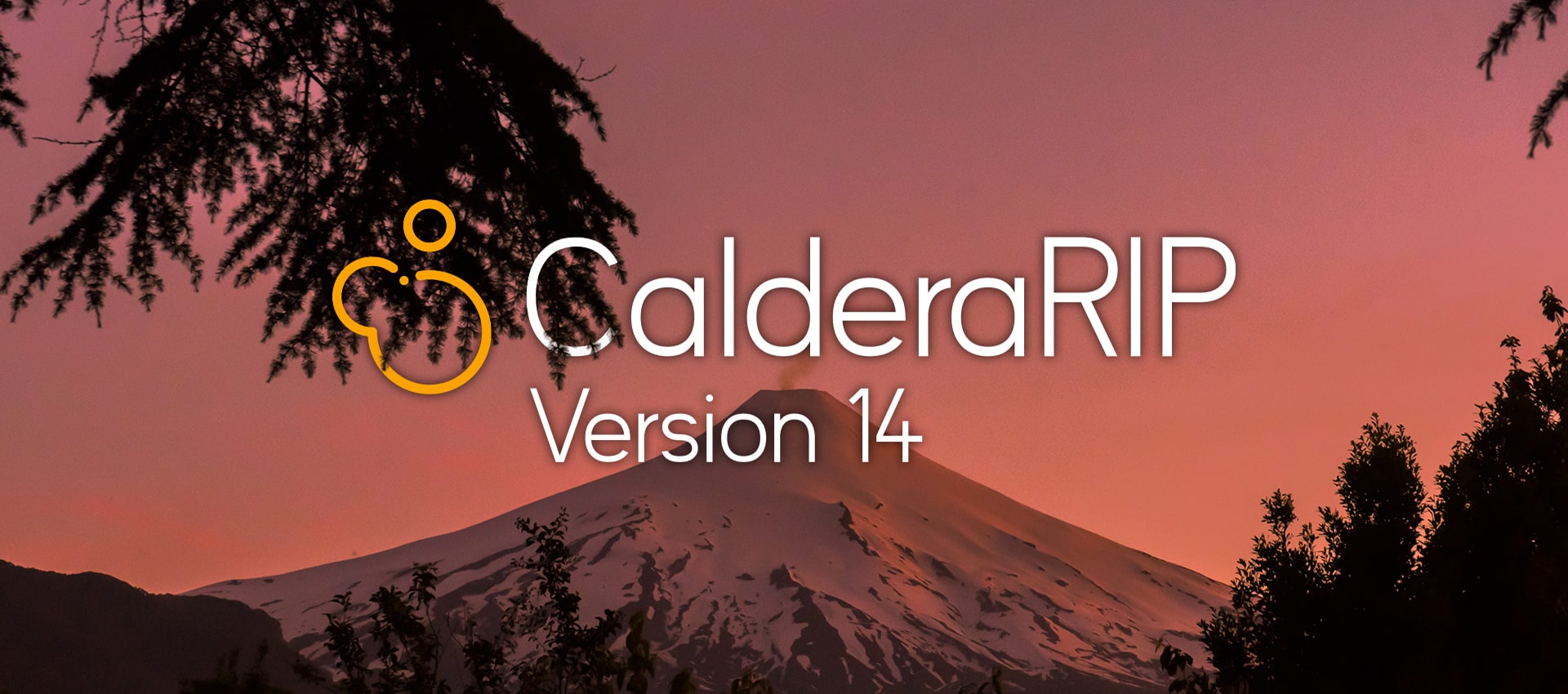 Press Releases
Releasing CalderaRIP Version 14
October 14, 2020
French RIP specialist Caldera have announced that CalderaRIP Version 14 will be launched in October, bringing a range of new features and enhancements to its award-winning print management and workflow software. The benefits to users will include increased production capacity, decreased downtime, significant time savings, enhanced automation and even better print quality.
This latest edition of CalderaRIP software firmly focuses on providing better workflows and Hotfolders. The result for users is increased production capacity and minimized downtimes – the parallelization of Hotfolder queries means not only a time saving of 35% on PDF workflows, but also up to 60% faster TIFF workflows for industrial and textile printers. This represents a substantial productivity gain over previous versions.
Furthermore, V14 includes a number of features that are exclusive to CalderaCare customers. Their file-based workflows can link to the RIP and to PrimeCenter, Caldera's new production automation solution, by automatically loading and processing metadata, such as the number of copies of each prepared layout.
Additional new features include QuickConfig, which reduces the time spent managing configurations by offering extra flexibility when submitting jobs from the ImageBar. The latest Adobe iteration, Adobe PDF Print Engine 5.5, features a Fine Line Rendering algorithm for sharper lines and more readable small text. V14 also includes features that were previously exclusive to CalderaCare users, such as access to Automated Double-sided Print&Cut,which can result in up to 90% time savings at the design stage of the process, and Nesting Content View, useful for locating jobs hidden in nested rolls.
Caldera V14 supports 42 new print drivers and three new roll cutter drivers, as well as updates to macOS V11.0 Big Sur. CalderaCare users further benefit from the Fotoba Automatic Slicing Positioning for those who invested in automated trimming. Moreover, patch detection for the latest X-Rite i1Pro3 and i1i03 spectrophotometer has also been enhanced.
Caldera General Manager, Samin Sarkar sums it up: "With increased production, workflow boosts of up to 35%, multiple time-savings and the automation of DSP, there really is no reason not to upgrade to Caldera Version 14 or subscribe to CalderaCare. Caldera continues to maintain our commitment to put our customers' priorities at the heart of everything we do."
About Caldera
Headquartered in Strasbourg, France, Caldera is a software company developing innovative solutions for the large-format digital printing industry. Since 1991, their award-winning programs help print service providers to improve their productivity, cost-efficiency and color output. Caldera solutions provide advanced color management, prepress and image processing tools for the graphics, signage and textile markets.
Press contact: Sebastien Hanssens, VP Marketing & Operations