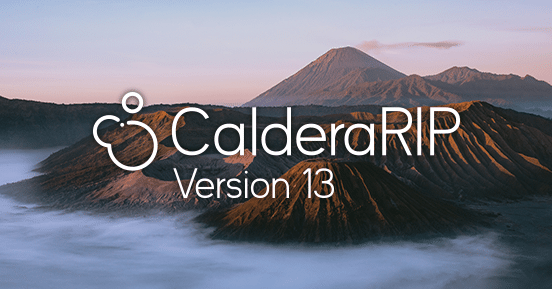 Press Releases
Releasing CalderaRIP Version 13
September 19, 2019
French RIP and workflow software developer Caldera is set to release the latest version of its award-winning RIP software. Version 13 is coming to the market in October 2019 with a range of new features, and several improvements to existing features. The new version will be showcased at a number of upcoming print conventions including SGIA/Printing United in Dallas in October, C!Print in Lyon next February, FESPA in Madrid in March, and ISA in Orlando in April.
A clear benefit of V13 is that users can expect to save significant amounts of time during prepress, reprinting, as well as saving on media in certain areas but also during mounting and installation in the field. The 5 main new features include Print&Cut Mirror, Tile Order, Caldera Jobs – Detailed View, Custom Annotations and Alpha-to-Spot.
Print&Cut Mirror has been designed to streamline mirror workflows, when printing the back side of backlit applications and for print-to-cut dye sublimation transfer applications. It allows printers to manage the mirroring of the image, the cut marks and the cut file directly from the RIP interface, resulting in prepress time savings. Tile Order allows users to choose the printing order of tiles to reduce onsite mounting time for large tiling jobs. Printing can be started from a corner of choice and the feature can deliver time savings on mounting times for building graphics, blueback posters and building wrapping.
Another new feature, CalderaJobs, makes managing large volumes of jobs and multiple printers more efficient. With the ability to archive, save or delete past jobs more effectively, users will save time spent searching for a reprint and have a clean view of all their work to date. The Custom Annotations feature allows printers to choose which information they print in the annotations, which results in saving media space and optimized data searching and pertinence. There is no more need to put the legacy Caldera standard or detailed information on textile applications and building wraps, saving both media and mounting time. The final innovation in this version is Alpha-to-Spot. This automatically converts files with transparent backgrounds into white channels in automated workflows, allowing for prepress time savings.
As well as the new features, V13 boasts a number of improvements to existing features. InkPerformer now offers a choice of V2 (Legacy) and V3 engines. The latter delivers ink savings of up to 30 percent, maintaining color quality with improved grey neutrality printing. New version Light Installers save time, while OS support will be extended to macOS Catalina 10.15. V13 itself can be downloaded directly from CalderaDock, as can new ICC profiles and printer drivers. The new version sees updated Pantone Libraries, including 210 swatches in Pantone FHI Cotton TCX, and there's a new 2xCMYK Print Mode, for finer prints with duplicated heads.
Vice President Marketing, Operations & IT Sébastien Hanssens says, "This new version of Caldera's flagship RIP software has been developed to explicitly meet the needs of our existing users and to provide them with enhanced benefits across the full range of workflow and RIP functions. Printing with Caldera V13 is more efficient and cost effective than ever before, with a simplified user experience for valuable time savings."
About Caldera
Headquartered in Strasbourg, France, Caldera is a software company developing innovative solutions for the large-format digital printing industry. Since 1991, their award-winning programs help print service providers to improve their productivity, cost-efficiency and color output. Caldera solutions provide advanced color management, prepress and image processing tools for the graphics, signage and textile markets.
Press contact: Sebastien Hanssens, VP Marketing & Operations